Woken well too early & really struggling to get back to sleep, there was a bit of a sleep-in until eight. Poking my head out of the window eventually, there were less dark clouds hanging around than yesterday morning. With quick organisation, I was off out the door by myself (nice to have a bit of independence back & go off for a ride solo) & back at the Kokopelli trail head & riding by 9.15. With a bit of prior research, it looked like Mary's Loop, Horsethief Bench & Moore Fun trails were the ones to string together for a good introduction to the trails proper. More showers & then thunderstorms were forecast so I was keeping one eye on the trails & scenery & the other on the large black clouds gathering ominously over the river.
Mary's Loop started off with a nice climb up on to the bluffs above the river. It wasn't a particularly difficult climb – in fact this was quite good, as this was to be my longest ride of the season so far. In spite of the gloom the views aren't for scoffing at.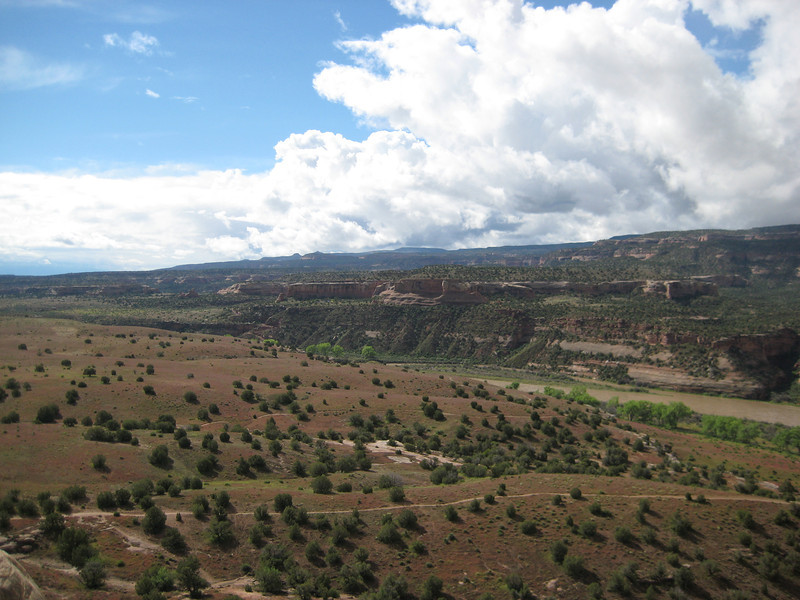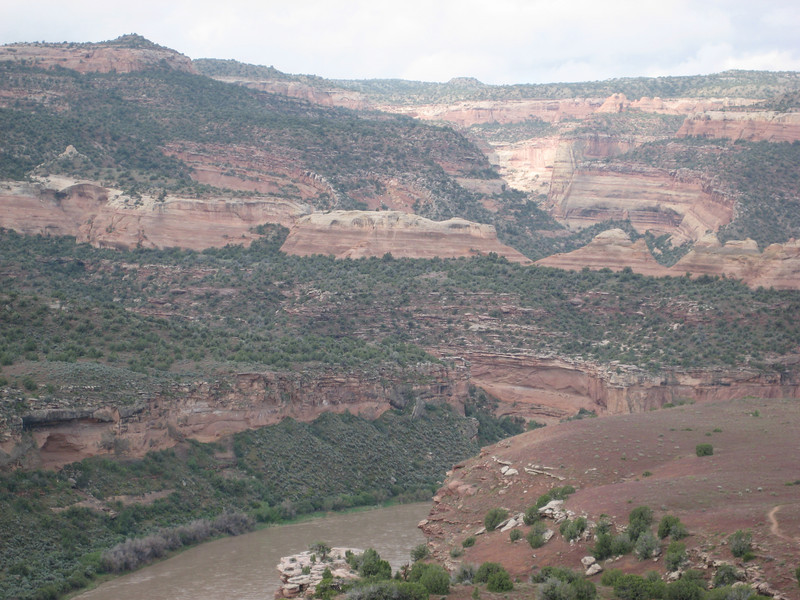 After riding the bluff for a while, Horsethief Bench loop cuts off down to the left – that's it down there.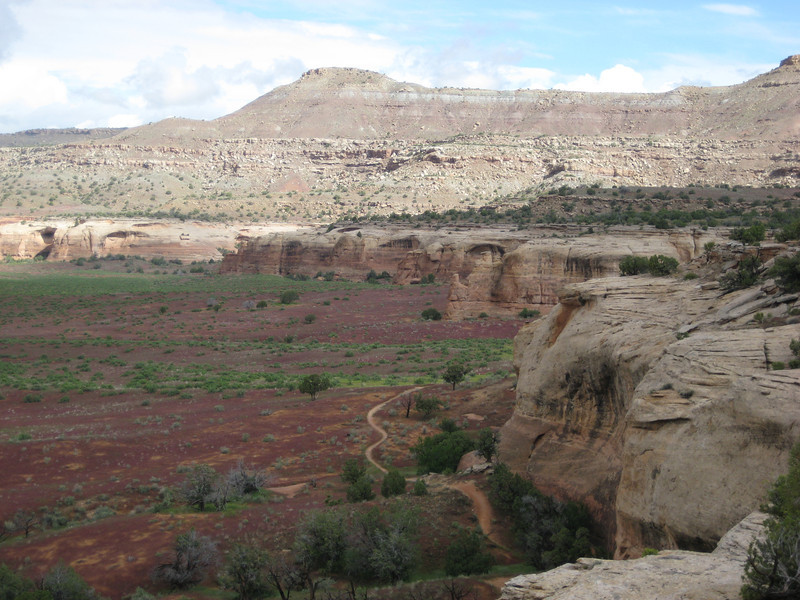 The route down (dropping 25m in a hurry) was rideable to start with & then the rocks just got too big for me.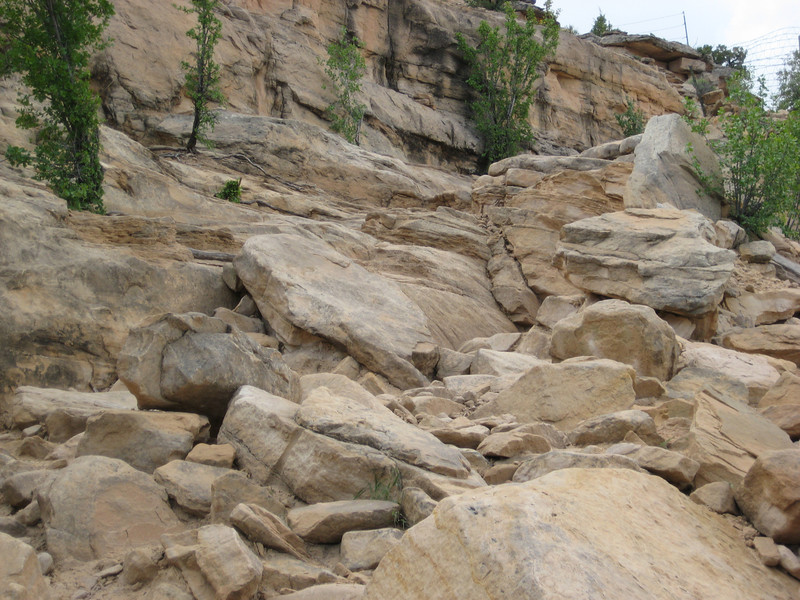 Yes, there's a trail down there; no, I couldn't ride it all.
This side loop was OK & there were enough rocks to make things interesting & technically challenging in a few places. In some of the shadier parts, the sand was still a little wet from yesterday's rain. I was pleased with some of the trickier step-ups & -downs I was able to clear.
While I remember, I'm going to digress to comment on my switch to tubeless. I went for a standard Stan's setup a month or two ago. I had a few problems getting the rear standard Maxxis Crossmark to seal, but mainly because I was trying to do it with a floor pump (it's a lot easier to get the bead to seat with a compressor). The front UST Kenda Nevegal went on easily with just a floor pump. Now that the tires are reliably inflated, I'm loving them. On all these rocks I've been running a much lower pressure that tubes would allow. In the last few days there have been five or six incidences where I've hit rocks that I'm sure would have given a tube a snakebite puncture. Actually, after my first rocky ride at Tabeguache I went to inflate my tires a bit & found they were running at 18 psi!
After the Horsebench, unfortunately I had to go back up all those rocks – nothing like a bit of hike-a-bike – to get back on to Mary's Loop to ride around the bluffs once more on more double-track. All the while, the clouds were getting closer but I still wasn't wet.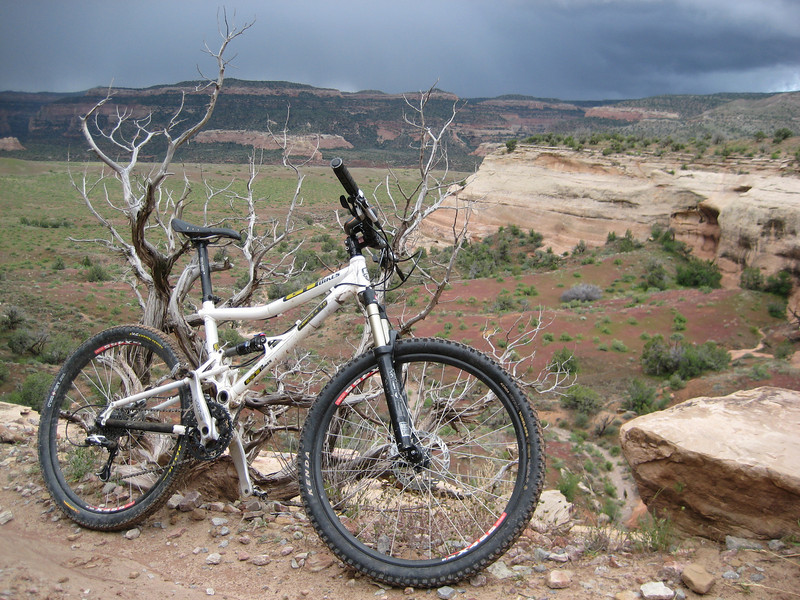 Eventually the trail turned away from the river & climbed up for a while to the start of Moore Fun. This was the option to get back to the car with the most singletrack & least road, so it was a no-brainer to take it. It turned out it was a double black, the first part was where a fair chunk of my six hundred metres of climbing for the day came from. Finally there was a decent amount of singletrack (as opposed to wide double-track), & it was rocky – there were plenty of bits where I had to walk. The rain had started by now (I'd got off remarkably well so far) & any dirt/sand quickly turned to awful mud that just stuck to everything. The views of the big black cloud were pretty good from the top.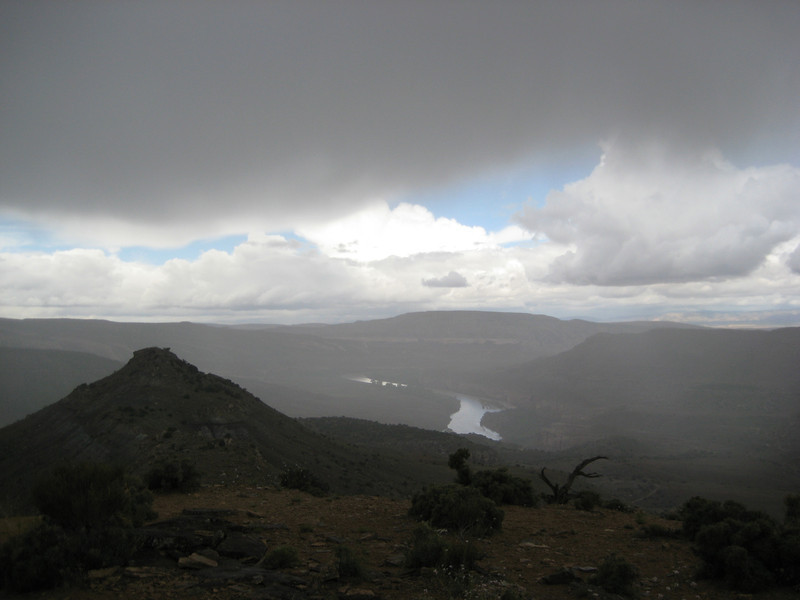 The trail marking on the way down left a bit to be desired & I had a map & a GPS to follow (marking at intersections was great, but on the rocks in the wet it was sometimes hard to find the trail)! But I made it down off the ridge & in to more of that nasty sticky stuff. I made it back to the car (2.40 & about 23km) & was disappointed to see that there was no hose at the trailhead – it seems a bit odd (Have you got a hose? I need to get wet asep), considering how poorly the trails stand up to just a little bit of rain.
Great to get out for a decent ride & I didn't get too wet. Perhaps it because was I missed out on the views in the sun, but I can't quite see what all the fuss is about at Fruita – I've ridden much better trails with better views all around the place. None of the trails seemed to flow particularly well & quite a bit of the ride was spent on relatively tame double-track. Maybe I'll find something more interesting on Saturday (when we also mean to check out the Mike the Headless Chicken festival as the story behind it is interesting).
We had a great Nepalese meal downtown Grand Junction this evening – I even managed to remember my huge Nepalese vocabulary of four words & it brought back many great memories, I must get back to Nepal one day. Best statues of the day are Chrome on the Range II: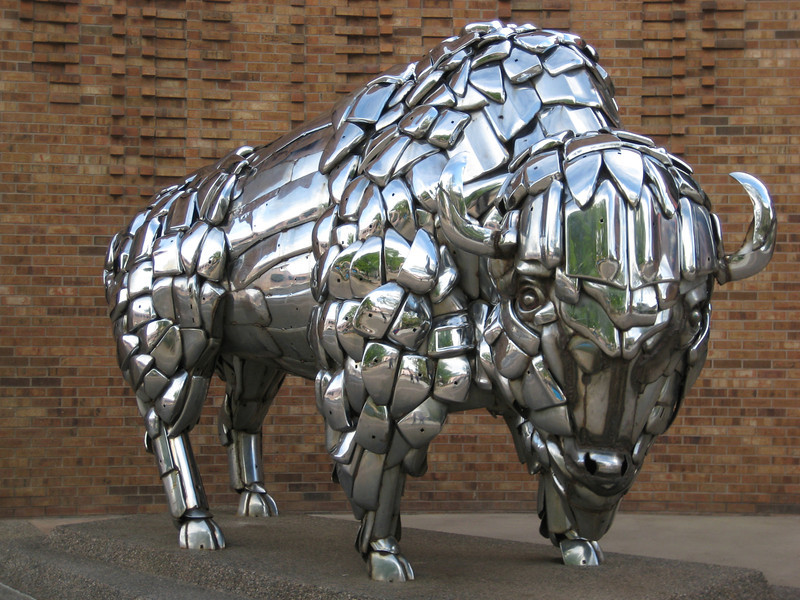 and a single-speeding dinosaur.