Leaving our humble/crumby/roomy trailer we headed west, & after crossing the Colorado River for the last time & declaring we had no fruit, were allowed unimpeded into California.  It was a longer drive through the edge of the Colorado Desert to the SE corner of Joshua Tree NP than I expected.  As we drove in to the Cottonwood Visitor Center I was a little confused by the lack of Joshua trees – instead there were quite a few Mojave yuccas around.  It turns out the park straddles two different deserts – the lower Colorado & the higher Mojave & the Joshua trees are found in the west, higher part of the park.
We checked out Cottonwood Spring, found a lot of greenness, but no spring.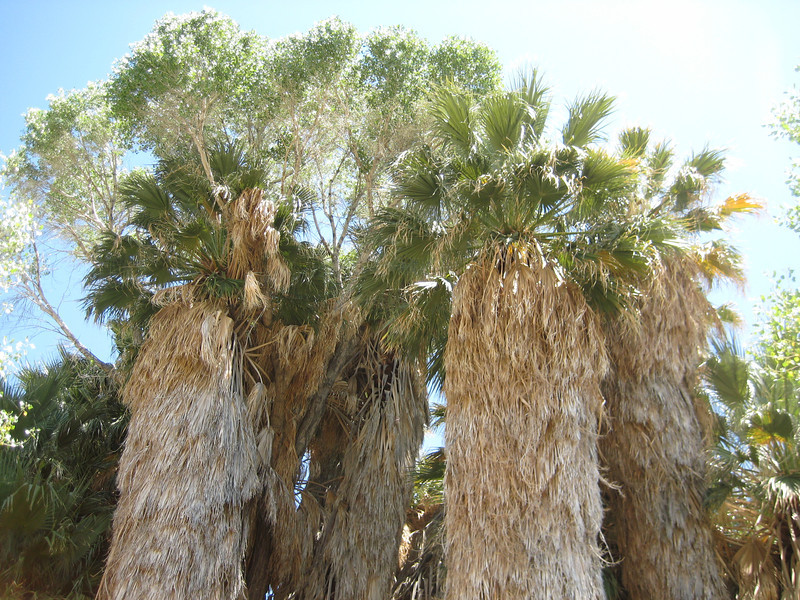 It was quite a drive west through the park stopping at the occasional exhibit & view point.  I was trying to work out why my friend from work in Canada, Janet, had come down here for two weeks of climbing earlier in the month – the gneiss didn't look at all climbable.  The Cholla Cactus Garden was very neat – provided you didn't get any of the barbed spikes in you.  Apparently they are painful & difficult to remove.  I went so far as to put my sneakers on for the first time in days.  Just as I completed the loop I saw a family posing their two young children in amongst the cacti (off trail) for what would have been a neat photo.  By the time Valerie went past them, the youngest was screaming in agony – he got stuck by quite a few spikes.  Idiot parents.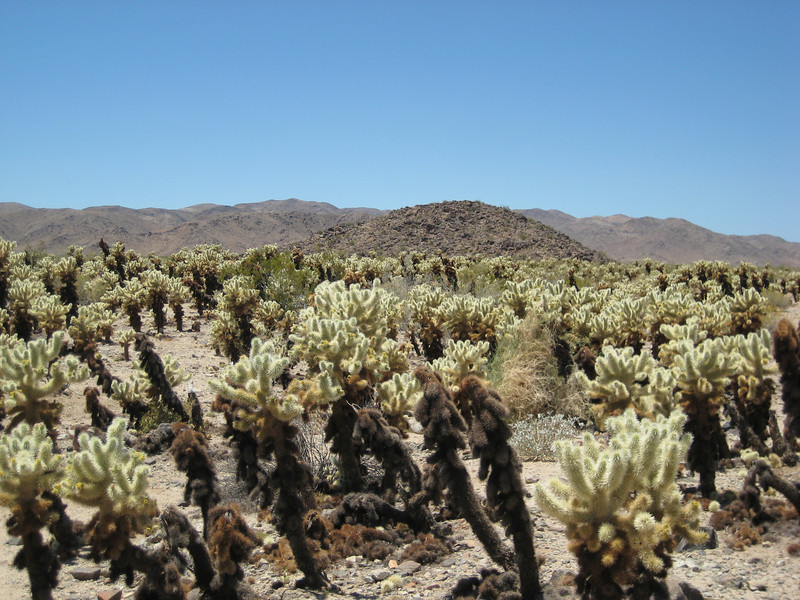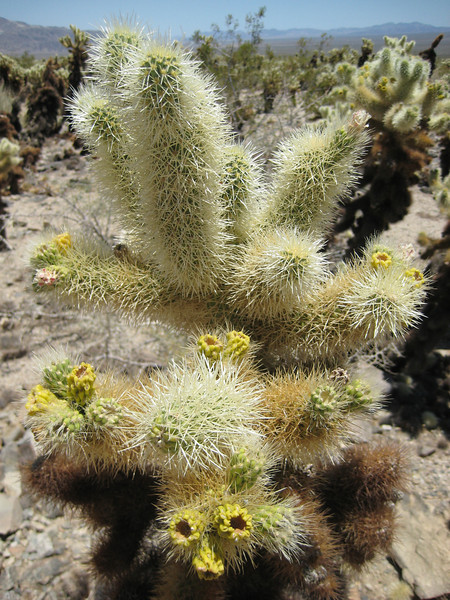 Eventually we did get up high enough to see Joshua Trees – many different shapes & sizes & just everywhere.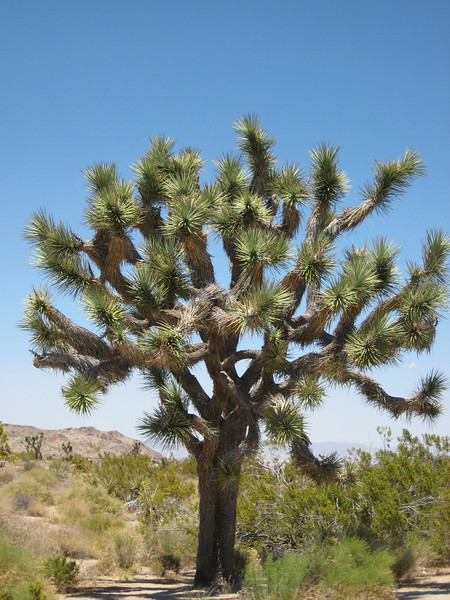 Also, the rock got a lot better.  We spent a bit of time wandering the trail around Skull Rock (never quite found the right angle to see the skull properly, but it was close enough) before continuing through ever increasing amounts of good climbing (I assume, what would I know?) granite.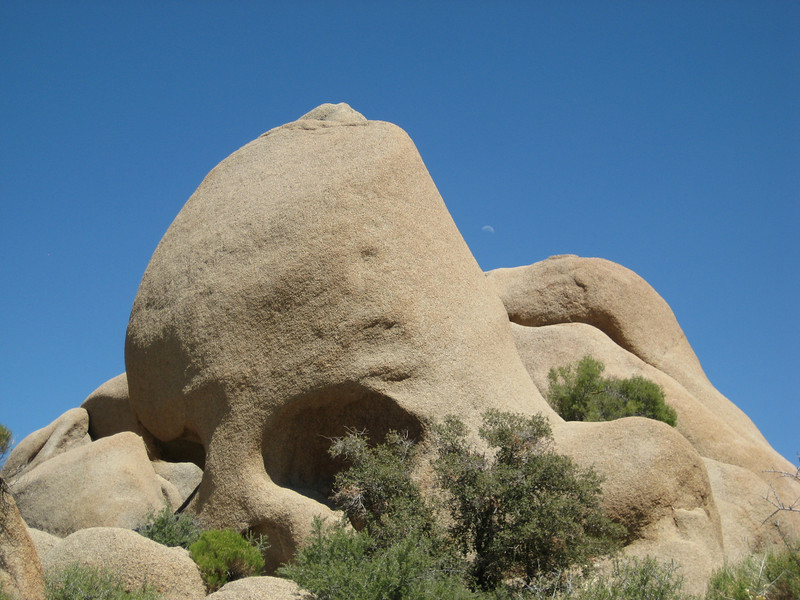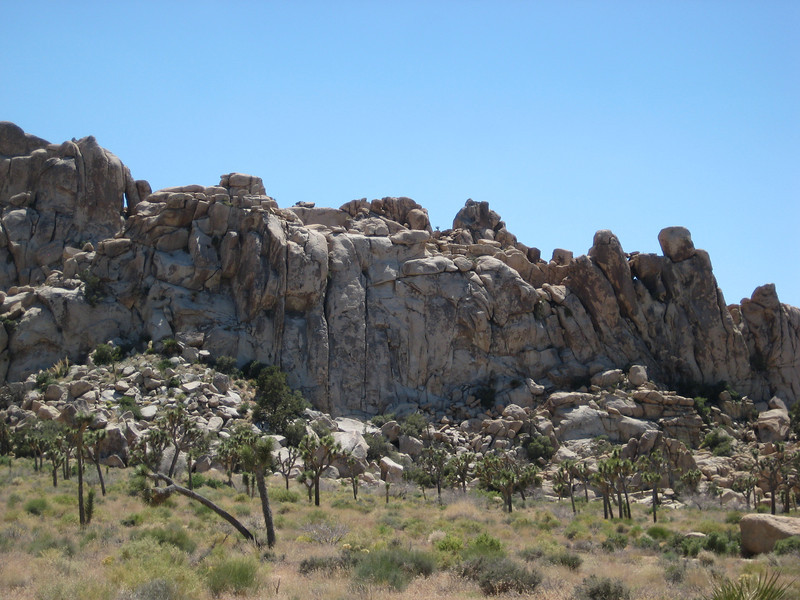 Leaving the park we joined the freeway just west of Palm Springs & headed towards Los Angeles.  Around here I saw the biggest wind farm I'd ever seen – they were all over the place.  That wasn't too surprising, it was a big wind tunnel & Valerie had great fun driving this bit.  As we got closer to LA it was clear that even high winds were not enough to disperse the great big cloud of smog sitting above the city – turned a nice sunny day quite disgusting.  With the help of the map book we left the interstate & headed south through the hills – the sky was a little clearer & there was a lot less traffic.  Very pleasant indeed, but being no towns around we couldn't find anywhere to stay so had to go west again to find somewhere to stay.