29ers have been around for a while now, but until this week I've never ridden one on a trail before. If you don't know, a 29er has 29 inch wheels as opposed to a normal mountain-bike which has 26 inch wheels; also, that maybe a sign that this post will be of little interest to you. With larger wheels, they are supposed to be easier to roll over bumps &, once you get those big wheels rolling, easier to keep moving with the extra rotational inertia. With my bike still waiting for a part to turn up to get it back to a rideable state, Megan has generously let me use her bike a bit to enable a little riding during the start of my final three weeks in Canmore. She & Alex have both now got shiny new 29ers recently – I have in fact ridden Megan's a couple of times, but as there was this much snow in the Canmore Winter Meltdown Triathlon it hardly counts as trail-riding.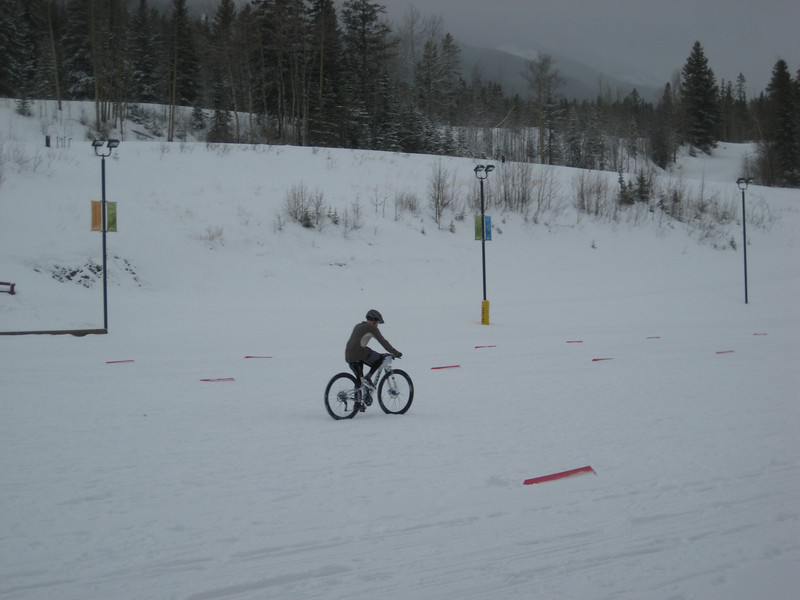 The first thing I noticed riding through town to the G8 was that the tires were hard & fast – pumped up for the recent 24 Hours of Adrenalin event in town. Tire choice & pressure make a big difference to a ride & while I love the Crossmark on the rear, it never gives me much confidence on the front. I prefer something a bit chunkier with enough tread on the side to save me from washing the front wheel out too often. Near the start of the G8 is a decent climb that I only conquered a few times last year on my bike – it's steep enough that the biggest flaw in my bike's geometry tends to show itself & the front wheel becomes very difficult to keep on the ground. The 29er got up this easily, although with the bigger wheels I was spinning the granny-ring a bit earlier than normal to keep them turning at slow speed. This was a pleasing climb, but pretty much what I expected. With the big wheels requiring an easier gear, it was nice to make my way up the rest of the climb feeling that I wasn't spinning excessively (the reason I prefer the middle-ring on 26″).
So having shown that the larger wheels made the more difficult climbs easier, it was time to see how they would go on faster undulating & then downhill terrain. Generally, the roots & rocks were absorbed better – but perhaps due to the setup, not markedly so. I did also notice that I would repeatedly have the rear tire skidding a little in the strangest places – perhaps better brakes & the hard tire a bit, but not completely. It was hard to keep the control I wanted with that wheel not gripping. Also, through the twisty parts of the trail the large wheel is not nearly as nimble & agile – but when you can just hit things & roll over them, it doesn't matter so much. As suspected, I didn't have much confidence in the grip of the tires to rail the corners as I normally would.
On the downhill, there was a strange disconnect from the trail – a little hard to describe, but I just didn't feel the trail as much. It's noticeably less work, less rewarding & less fun. The bike would also pretty much stay planted on the trail – which can be good & bad, but in this instance I was really missing not popping off the odd root or rock. So after that first ride, the least enjoyable part (uphill) was easier – but the most enjoyable part of the ride was less fun. Not completely sold yet, but it sure was nice having a shiny new bike to ride.
I let a bit of air out of the tires yesterday for a little spin around the Nordic Center. This improved things a bit, but I still had that same problem of the rear wheel not gripping the surface properly. Consequently, on a couple of chutes that I usually ride at speed & with ease I was just past the edge of control & mildly alarmed. Good to be out on the bike on another glorious Canmore day, so I can't be too picky – especially as I won't be buying another bike for a while yet.