Our last two days have been spent in Yellowstone National Park.  The drive up the Yellowstone River valley from the interstate to the park was quite interesting with plenty of snowy mountains to look at on the edge of a wide valley floor with still more irrigation.  As the valley narrowed closer to the park there were some interesting, sheer rock faces.  We got our annual park pass, which is a steal at $80 when one considers how many parks we are going to visit in the next three months.
With the weather forecasters warning of a lot of snow to fall (about a foot), we were pleased with just a little light drizzle in Mammoth Hot Springs (near the northern entrance).  There was a little geothermal activity here, so we pottered around the boardwalks for an hour.  Having spent so much time in Rotorua (NZ), I wasn't overly impressed by most of it – but there were some pretty cool little features.
At least the slight whiffs of hydrogen sulphide reminded me of home.  This was the best of the area.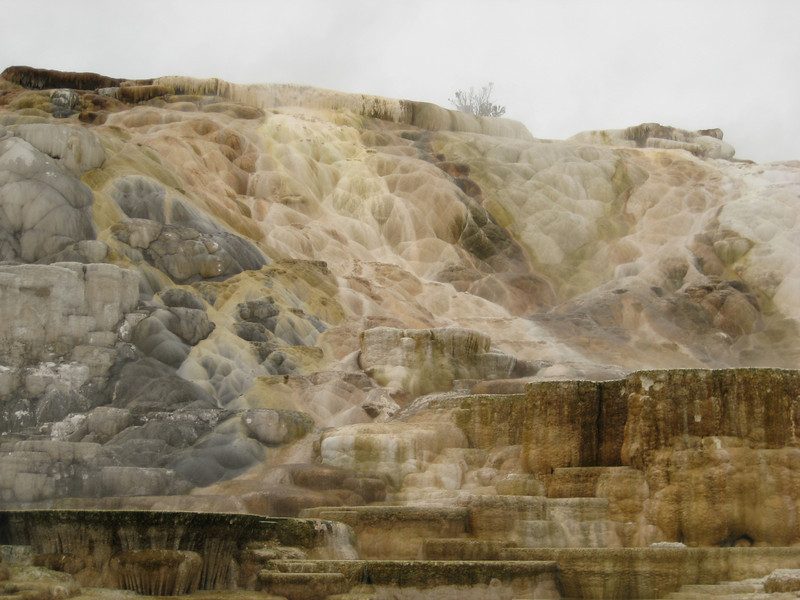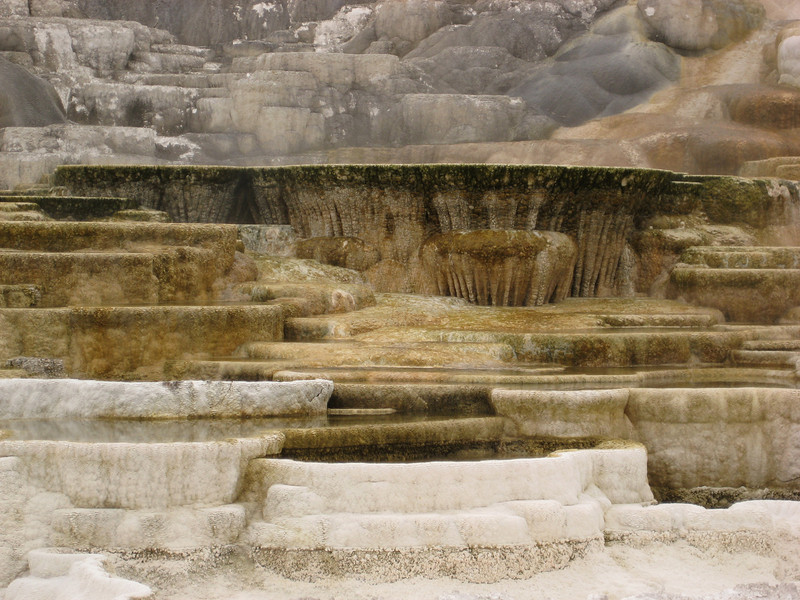 After noon we took the drive east towards the northeast entrance, as that was supposed to be the best route to take for spotting wildlife.  Bison (buffalo – same thing, with bison being the more scientific name apparently) were exceedingly easy to find.  With their big shaggy coats & rather small horns, Valerie seems to have decided that they look cuddly.  I'm not so sure about that – they can run pretty fast, jump higher than you'd expect & have been known to gore humans that aggravate them.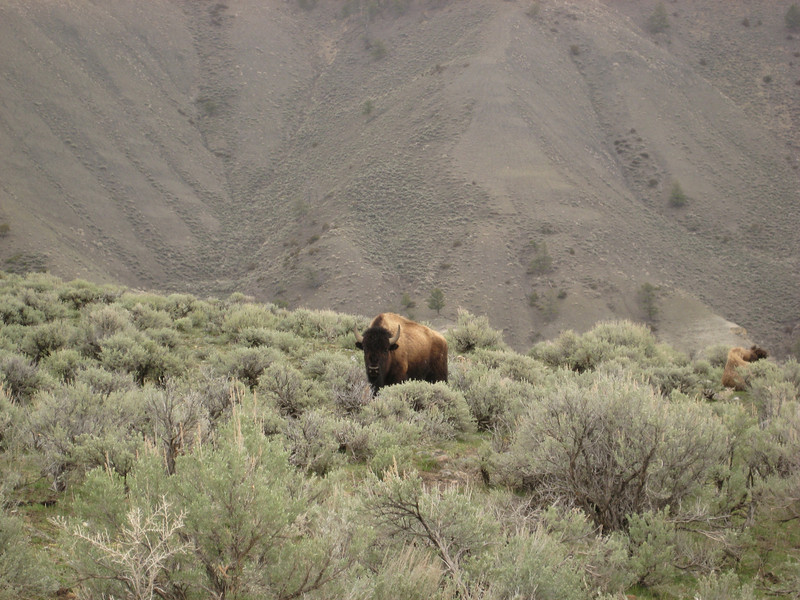 Still, we saw a lot of them.  Elk weren't quite as plentiful, but having lived in Canmore I wasn't so fussed (same goes for the bighorn sheep).  Best sighting of the afternoon was three wolves around a carcass – we watched for quite some time as two of them fought the other, the howls were impressive & intriguing to hear close up.  After crossing the river, they proceeded to walk along the other side of the road – so we continued to get a good look at them.  We saw a few grizzlies as we got further up the valley.  The first pair we got a good look at from about a hundred metres away as they meandered their way to the valley floor eating as they went.  We never quite made it to the NE gate, because as we climbed it got snowier & snowier & there was less chance of spotting any animals.
We took a different route to the park today, this time driving up the Gallatin River valley to West Yellowstone.  This valley was a lot closer in than yesterday's, with more traffic coming from somewhere.  It was a beautiful drive, despite (or perhaps, because of) the cloud & drizzle.  Entering the park, we headed straight for Old Faithful.  About halfway there, the rain started to turn to snain (snow-rain) & then it was puking snow on us – big, wet heavy flakes.  This continued as we went in to the comprehensive & grand new Visitor Center & then quickly went back outside to the wet as Old Faithful was due to go off again in ten minutes.  We waited patiently, getting snowed on more & more, & finally the geyser blew.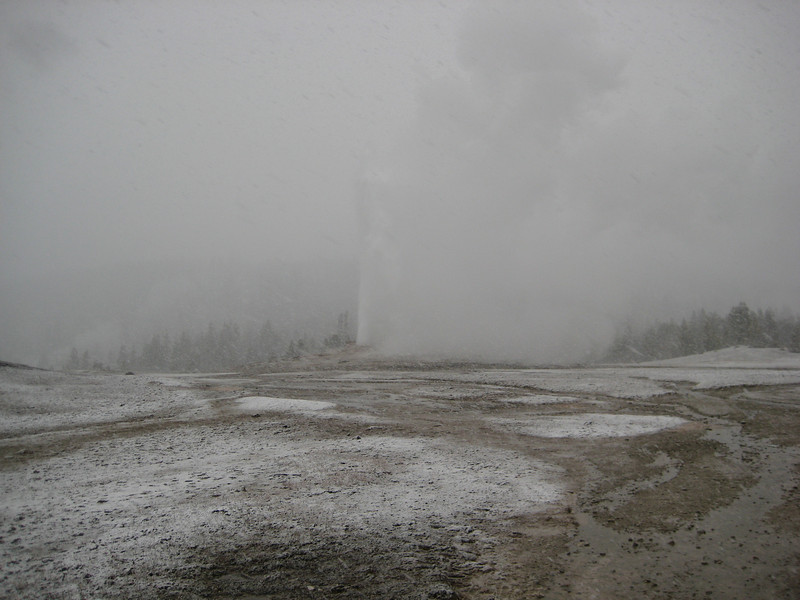 Perhaps it was the general gloom of the day, but it didn't seem overly impressive – I'd back Pohutu in Rotorua in a fight.  Still, it was neat to see it & it's quite incredible that it is such a regular occurrence.  I would have like to stayed up that way a bit longer to wander around some of other activity, but the snow & icy walkways were prohibitive.  We did manage to lunch opposite another small, but still interesting, geyser a little way from the masses.  Dropping altitude, we left the snow behind & went & walked around the Norris Geyser Basin.  Although we had to climb over a lot of snow where the boardwalks were too far from the warm ground, it was nice to stretch the legs.  Some of the pools were brilliant colours & this little detour was well worthwhile.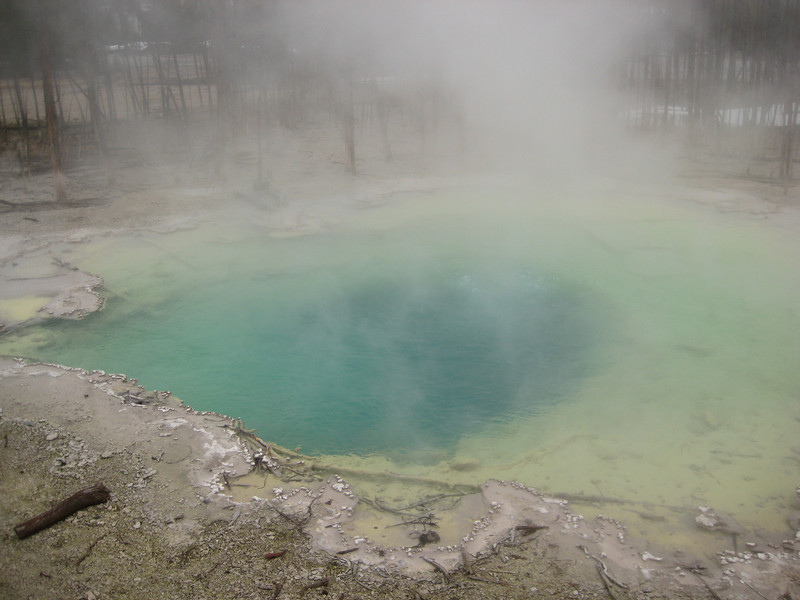 Heading east & then south we made for Yellowstone Lake.  As we climbed & went through various meadows beside the river, it was astonishing how much snow there still was.  I though it was pretty bad around the Canadian Rockies, but this was something else.  It'll be well in to the summer before this all melts.   The highlight of this little bit was seeing two otters playing in the river & then in the snow on the bank – they were frolicking around & having a great time.  The lake is much bigger than I expected – one big white blanket.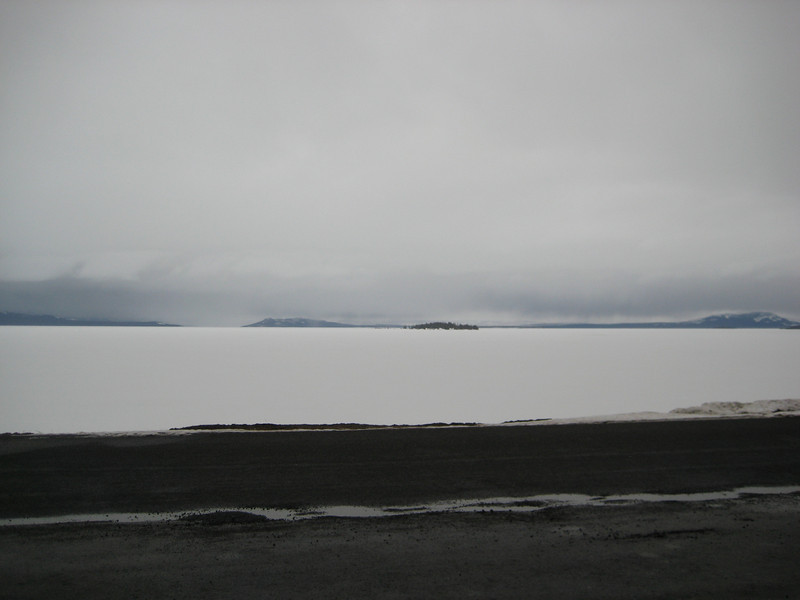 Returning towards Canyon Village, we snuck a quick look at the Lower Falls – these & the soft looking rock on the side of the canyon (running out of adjectives now – how can I keep this up for three months?) were also impressive (what a cop out).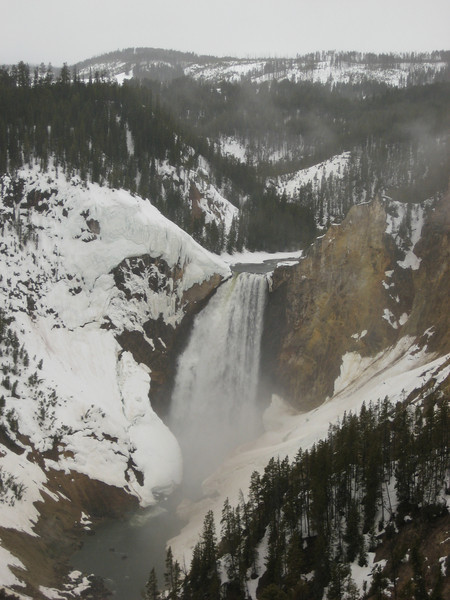 Some of the canyon wall crumbled while we watched & fell in to the river (which I suppose is better than having your castle walls burning down & falling in to a swamp).
Distance travelled: 1100 km (two days – 419 + 681)
Best road sign (caution):  ROUGH SPOT AHEAD (now road signs give life prophecies?)