After I managed plenty of long solo rides in January, it pretty much rained all of February – a lot. While the flooding in southern England didn't quite touch home, it was wet enough that I hardly rode & instead completely rebuilt my bike. It was even worse over in the Somerset – the home of the Combe Raiders; so come March, most were itching for a decent ride. Not deterred by words such as "big", "epic" and so on, eight of us assembled in Wheddon Cross on Saturday.
Moving towards a bikepacking set-up, I've been riding this year without a backpack – after ten years of using a Camelbak, it's refreshing to not have a few kilograms of water, tools, food & clothes pushing me down into the saddle. But with all those thing now on my bike somewhere, it does look as I've got some big expedition planned – even if I'm carrying no more than I would usually on a ride. Consequently, there was much associated ribbing. Strangely, being the out-of-towner I ended up leading the ride – never something I really enjoy in a large group as I find it hard to set a pace suitable for everyone.
The day was supposed to be brighter & warmer than those past, but it didn't start that way. There was the biggest climb of the day first up – partly on road then up the rest of the sodden hill to Dunkery Beacon. Reaching the beacon (which is not a beacon in the shining bright sense of the word) we found it was blowing a fair gale & I discovered that a frame bag in a huge crosswind just serves to turn one's bike into a sail. I struggled to reach the top. I've yet to find a suitable handy place on my new set-up to stash my camera, so most of these photos are from John. He seems to like black & white, on the plus side there are a few of me on a bike.
No backpack – trying to stay upright in the wind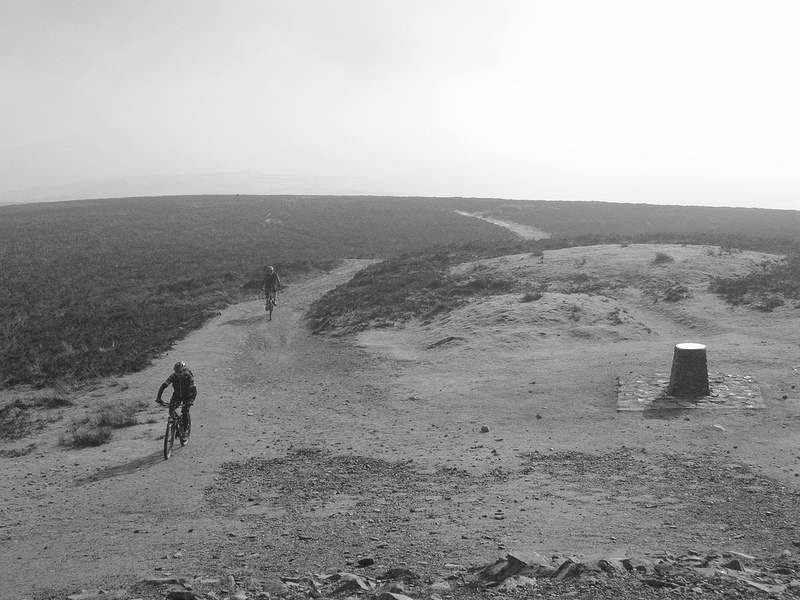 After that seven kilometres was over, it was pretty much downhill for a long time. The first part was great fun, even if the intense wind meant we had to pedal for most of it. Eventually we dropped down enough to get into the shelter of the hills & no longer work for the loss of altitude. The first & largest part of the ride finished in the village of Winsford, after we'd crossed the River Exe & followed it down for a while. At twenty-five kilometres we'd made reasonable progress in just over two hours and it was brightening up. Even though the village store had closed but eight minutes before, the proprietors were more than happy to reopen for eight hungry mountain-bikers – we promptly ate them out of pasties.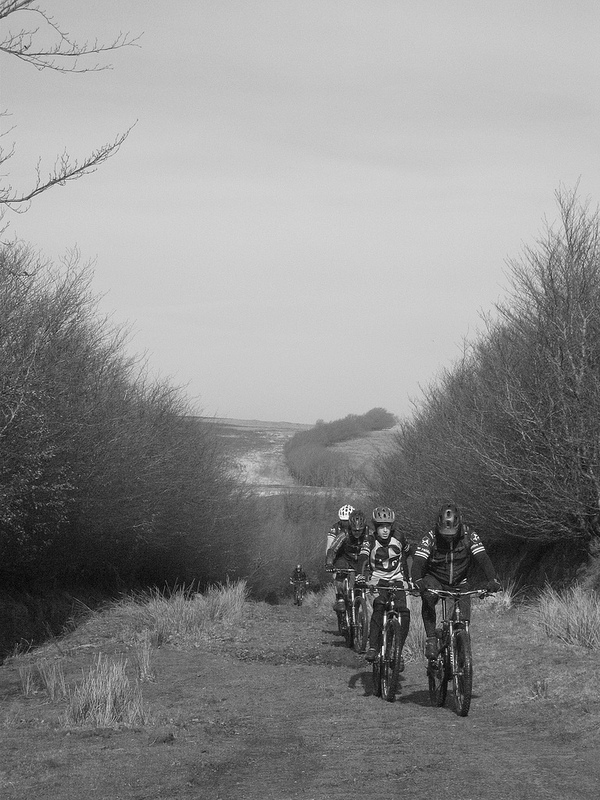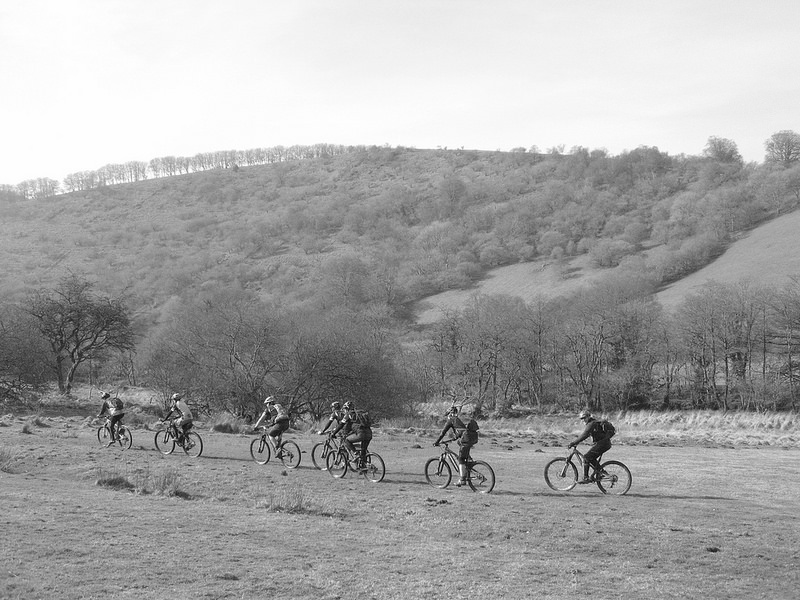 Of course, after all the descent – we had to climb out of the valley. There was a lot of grass & some nice steep climbs that spread the group out well (not to mention tired a few out). We saw a large hunt in the distance – many in red coats on horses with a pack of hounds ("release the hounds"), but no foxes in sight any more. What was more amusing was the masses of spectators driving around the country lanes with walkie talkies – what exactly was going on & what the attraction was I'm still not sure (but then traipsing slowly up hills on bikes getting covered in mud probably holds even less attraction for most).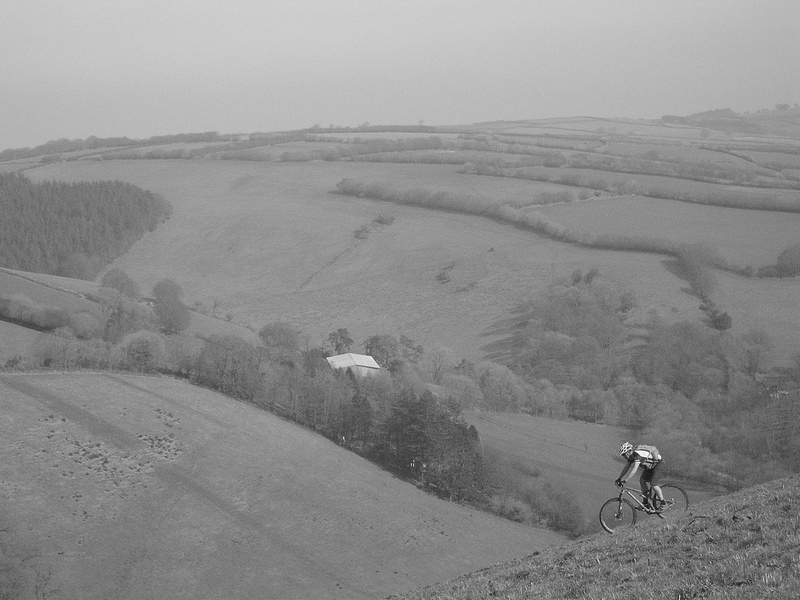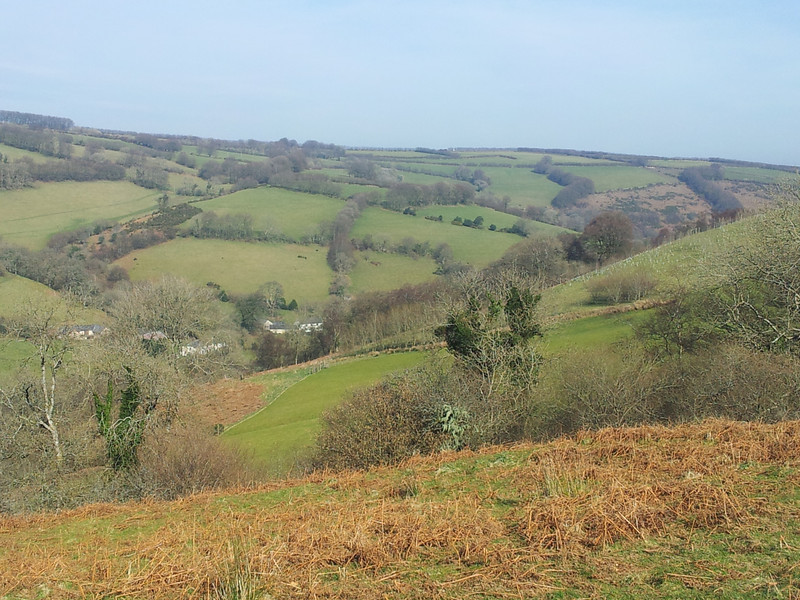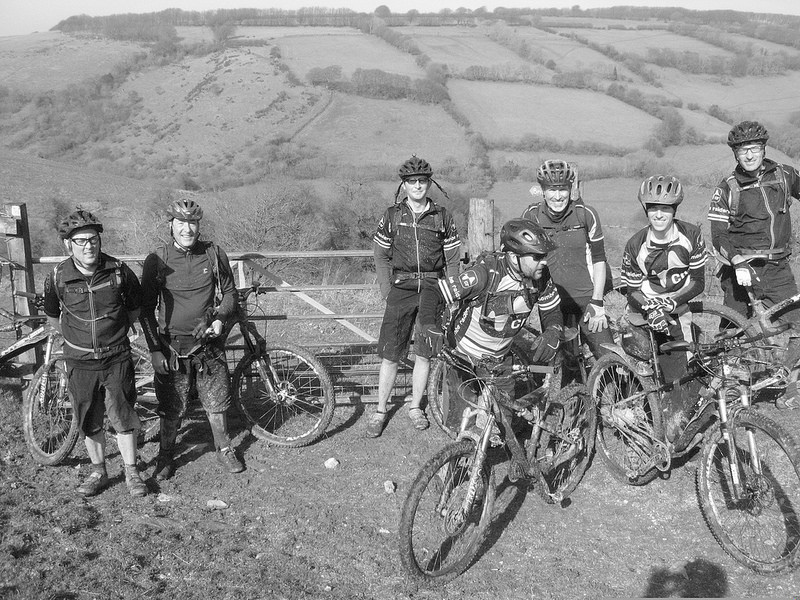 The climbing stopped a while as we followed the contour along the edge of a very wet & muddy ridge. With a good fun descent we were back in Wheddon Cross. We should have carried on & done the third leg – but as some of the group were noticeably flagging & getting just a little grumpy, I cut this out & took a more direct route home (much to my chagrin). Unfortunately it had a big steep climb & then an awful lot of mud for the final push up to the car park. A great day out (even more so when we lost the early gale) in the sun, beautiful countryside & good mates – nice to have some company on a longer ride.
Back to John & Anna's for bike cleaning, a spot of dinner, a few games of cards (haven't played Monopoly Deal for a very long time) before I faced the late two-hour drive home for the next day's event. Some time ago I volunteered to be a lead mountain-bike to show the route for the frontrunner in a off-road half-marathon for charity in the New Forest. I scoped out the course last weekend, found it rather water-logged & boggy and then was told the route had been changed to something less wet. As it happens, another rider & I led a rather quick guy through a seventy-three minute half-marathon – it looked like hard work running, but it was pretty easy riding. The other six hundred-odd runners were four or minutes behind. Also, it was the nicest day we've had in months so I was pleased to have had a reason to get out early & enjoy it – especially for a good cause.