Taking some time out from driving & doing anything really – sitting in a small park in the centre of a small town with a nice breeze blowing through the trees waiting for some more mountain bike buddies to show up for a weekend camping. Anyway, back to Wednesday.
It was up to early again, breakfast, car packed & gassed up & on the I-15 North shortly after eight. LV was going for another scorcher & it was already in the high-nineties by nine o'clock. Probably because there isn't any at home, I still find desert mildly interesting – I'm sure this will wear off after a thousand miles or so. There was plenty to look at – mostly hills & mountains of various sizes & rather large mining & quarrying operations sort of in the middle of nowhere, but close to the freeway all the same. As I was driving by myself & on the freeway, any time I saw anything worthwhile I got to practice my point, don't look & shoot photography technique. As I had forgotten to clean the windshield when I last filled up, there was little success.
Quite a bit of climbing through a gorge & it was back in to Arizona & then in to Utah. Here the mesas were becoming more pronounced & spectacular – & also a lot redder in colour. Got to Hurricane (SW Utah), where I was due to spend the next two nights at about ten, found the local museum & information centre – the charming old guy in there pointed me around the corner to the local bike shop. Here I met the first person yet to guess I was from Australia – she had just got back from there (which is better than the cop on the mugging night who commended me on my ability to speak English – "you speak English good" – shudder) – & got some good tips on what rides I might do the following day. Enough of that, it was time to hit the road again.
Crossed back in to Arizona (I later found out that I had changed time zones without realising it – Utah doesn't do daylight savings) & the next hour or so of highway was lined with more spectacular mesas.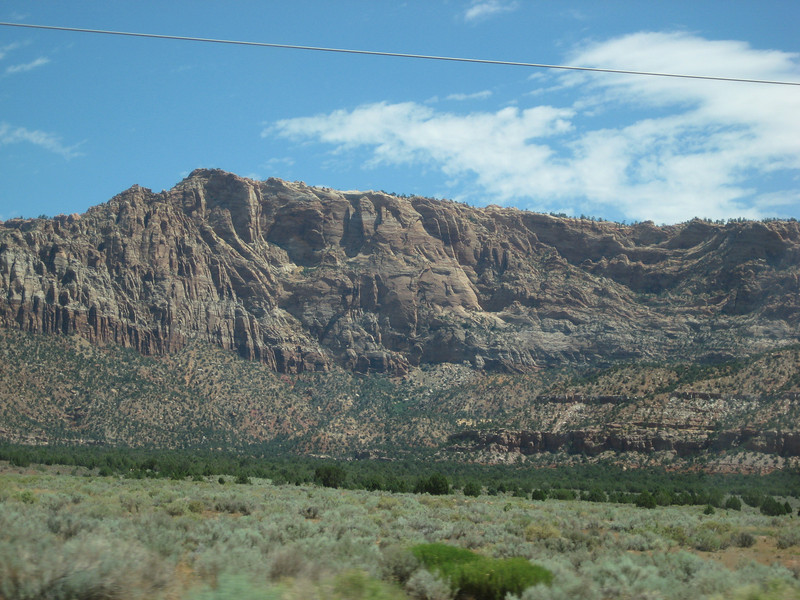 The road then hit the hills & climbed up to six thousand feet & I was soon in the Kaibab National Forest (designated so by Theodore Roosevelt, who used to hunt around there a lot). As the road got higher (7000 ft+) the forest turned really pretty & then opened up a bit in to big meadows. The superb road curved its way through these meadows & trees – I'm not sure I have done a prettier or more enjoyable drive for quite some time.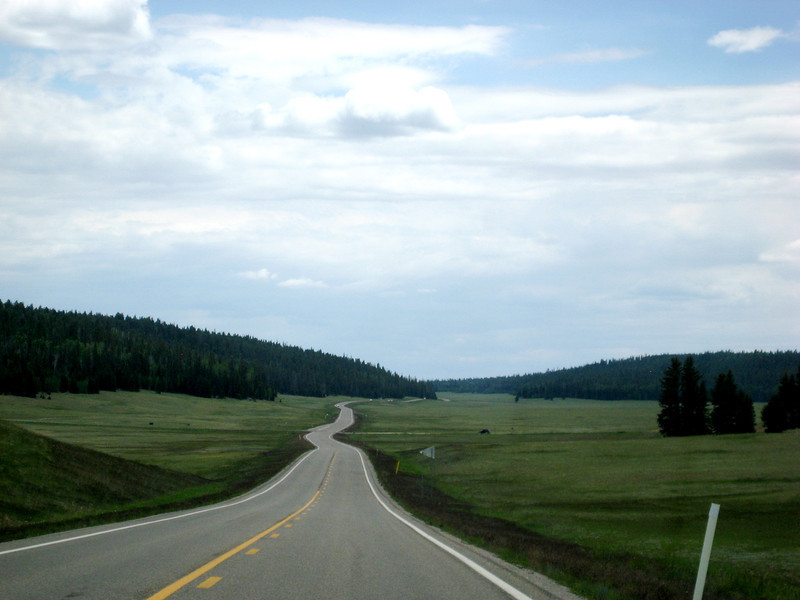 It was straight from Kaibab in to Grand Canyon National Park. I was visiting the North Rim – the less visited side of the canyon (it only gets fifteen percent of the visitors) – as it fitted better with going to Utah & my time constraints & dislike of large crowds. I was surprised at just how many trees were around the top of the canyon – probably because most photos I have seen are from South Rim – the reason for all the trees is that it is getting up towards nine-thousand feet high, so isn't really desert like the North Rim. Of course the views were breathtaking & all the different layers in the rocks fascinating. I won't wax lyrical, although I could, but put some photos from my puny camera up instead. I took a short walk down part way in to the canyon (got passed by three mule trains – very dusty & smelly) to get a slightly different perspective. I only went down twenty minutes; on the way got chatting to some guy who was making hard work of the last bit of the climb to the rim. It turned out that he had started walking at four-thirty that morning from the South Rim, walked along the bottom & was almost at the top of the North Rim. What's more, he was planning on doing it all again tomorrow in reverse – crazy old guy! Feeling sickened by that, I promptly got back to the car & took off back to Hurricane (not before fixing the trunk lid that wouldn't close; the car is quite good for cruising on the highway & carrying all my gear – but the build quality is awful, for a two year old car there are so many buttons that stick or don't work first time & the vents are all stuck in the same position & so on). Crashed back at the motel – did just over four-hundred miles that day, was quite tired. What a great day though – what different scenery I had seen – desert, rocky mesas, forests, & the Grand Canyon.<