With the January & February weather being so dire, my motivation to go bikepacking was low – lest I float away in the middle of the night. March has been, in comparison, very dry so far & the floods have receded in many places – so it was time to load up the bike and head out for a long ride, camping overnight. A couple of weeks ago I stumbled (online) across a new long-distance path (at fifty miles, it's not that long) close to home in east Hampshire – The Shipwrights Way. Starting in the Alice Holt Forest, near Farnham – the trail uses bridleways, rail-trails and quiet country lanes mostly to follow an imaginary path that ancient oak trees would have taken to Portsmouth to be used in the building of medieval naval vessels.
It seemed an easily doable out & back overnight trip – I decided to start at the end (Portsmouth) instead of the beginning as it was quicker to drive there (I couldn't be bothered being restricted by train times) & meant I was more likely to be wild-camping in the countryside rather than the city. It was easy enough to find free street parking near the seaside in Southsea at eight o'clock on a Saturday morning, I was soon riding along the seafront in the unforecast sun. This first section (for me, actually Section 12) of the ride was soon over as I was waiting for the small ferry to take me to Hayling Island.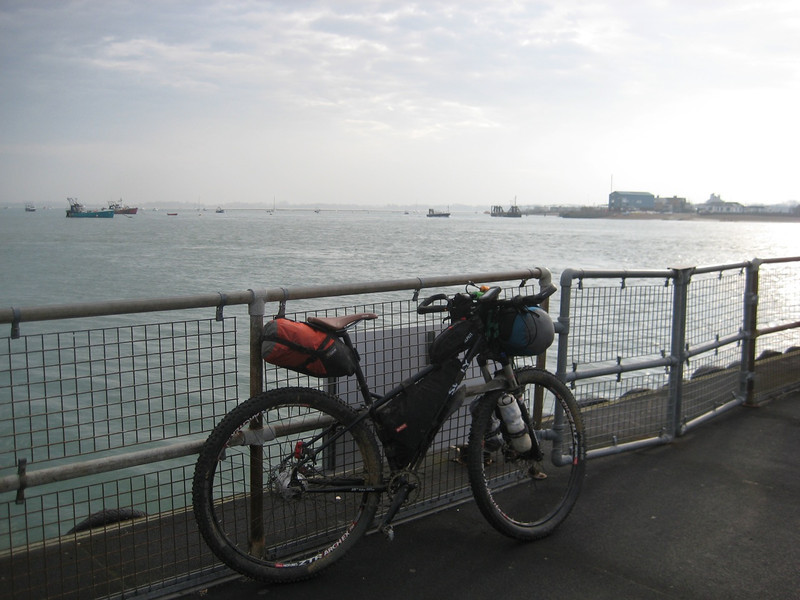 Waiting for the Hayling ferry
Most of this part of the route (Section 11) follows a rail-trail, Hayling Billy, so it was easy & pleasant riding – with views back over the harbour. Crossing onto the mainland I was soon riding through the town of Havant – hoping I'd be in the countryside soon. Sure enough, it was country lanes & then a bridleway (an ancient drovers' road) into the village of Rowlands Castle – the castle is ruins now. The next section (8) paralleled the main London Waterloo-Portsmouth railway line (a lot of the route didn't stray too far from this, & I crossed it numerous times) north surrounded by fields. Plonked in the middle of one of those fields, on a slight rise & seemingly quite isolated was St Hubert's Church – built in 1053. For a couple of hundred metres north of Finchdean the whole width of the road was completely underwater – a slow pace was best for not getting soaked; sandbags were still to be seen, as were pipes carrying pumped water to drain from numerous properties – it hasn't rained for two weeks, it must've been very wet.
St Hubert's church
Having left the coast some time before, I had been climbing for a while – albeit gradually. As I was expecting from a previous visit: as soon as I hit Queen Elizabeth Country Park (QEP) there was the biggest climb of the entire route, not the most fun with a loaded bike but easily manageable. This coincided with the sun getting higher & me getting noticeable hotter. I finally saw my first of the twenty new sculptures along the route – each relevant to history or wildlife of the particular area they are set. Of the twenty, I only saw about five – eight are yet to be installed yet, but I still missed quite a few. Immediately behind the sheep sculpture, the trees had been cleared to give a nice look over the downs.
Looking out over the South Downs National Park from Queen Elizabeth Park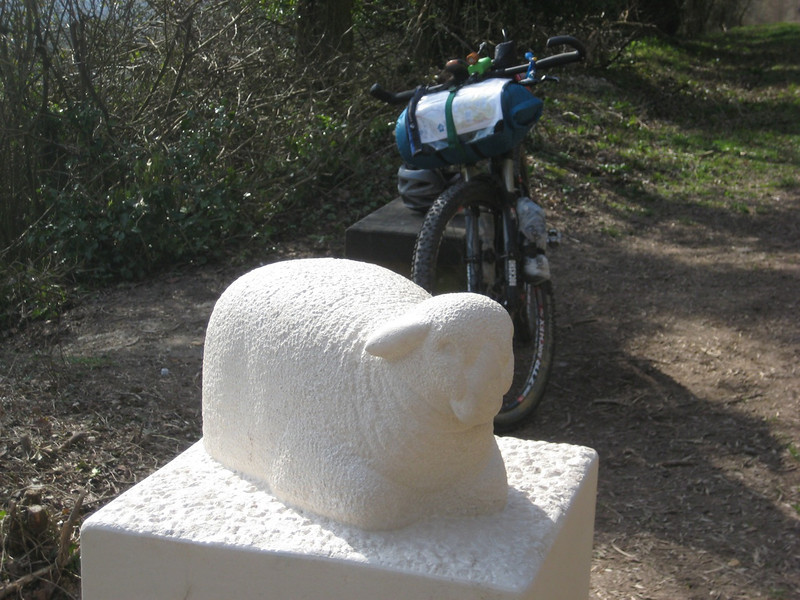 The first I saw of the many new statues on the route – a Hampshire Downs sheep
It was a steep downhill section past chalk pits hundreds of years old (of which I enjoyed reading the industrial history) to the village of Buriton before a mostly sealed section into Petersfield – which handily had a market to provide me with lunch.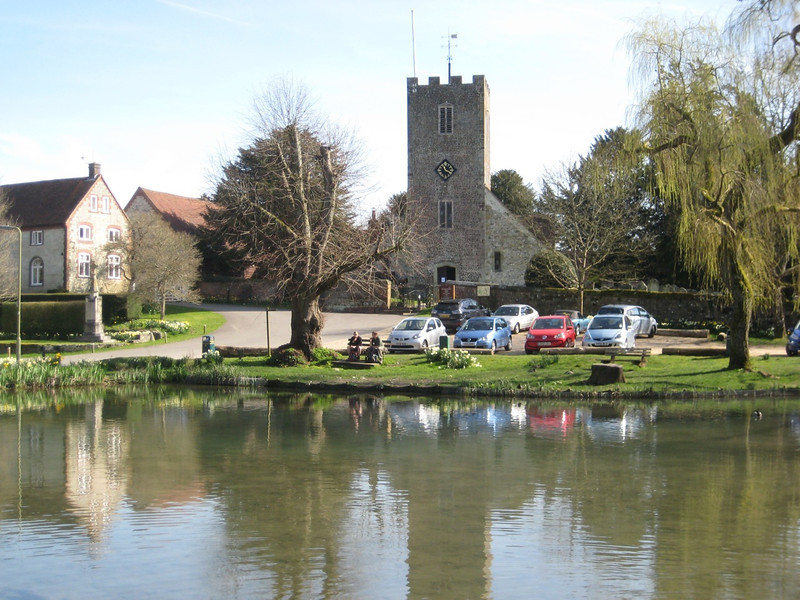 Buriton
Crossing under & over the busy A3 and then the railway again, into Liss I joined another rail-trail. This time, it was through a nature reserve & used to be the Longmoor Military Railway – that used to go from the mainline at Liss to the large military camp at Longmoor. At one stage it was a seventy mile length of track & saw a huge assembling of rolling stock to go to the continent after D-Day. I was still finding evidence of large sidings in woods many miles north. Annoyingly, the route is not yet established for Section 4: Lindford to Liss – so I tried to find a more direct way than the main roads. This involved some slightly damp off-road cycling trails & then I found myself on footpaths – footpaths aren't a good idea with a loaded bike as the gates are extremely difficult to get a loaded bike through or over.
Most of the rest was through Alice Holt Forest, which was well frequented by families enjoying the sunshine – there's also a very large adventure type playground that seemed very popular. I didn't stop as I feared I'd not be able to weave out of the melee of kids if I did. Shortly after I reached the end (start) of the route at Bentley – stopping briefly for croissant, cake & ginger beer I turned to see how far back I could get. With eight hours of travelling time for eighty kilometres, I figured I could do the easier overall-downhill direction in six hours.
But as I'd dragged my camping gear all the way it seemed a waste of effort to just return to the car & drive home that night. So I had steak dinner in Petersfield and continued in the dark to QEP. Well dark by now, my dynamo (in the hub of my front wheel) powered k-lite front light was super bright & more than enough to light up the trail & blind oncomers; the charging system worked well in the day either charging AA batteries for my GPS or charging my phone (via USB). The steep climb up past the chalk pits was tough for legs that aren't used to twelve-hour rides carrying a heavy load. At the top of QEP, after startling a large herd of deer, I found the picnic shelter that I'd noticed early in the day. With no one about, three walls, a roof and relatively flat woodchip floor was good enough for me – no need to put up the tent. In bed by nine, I was later woken a noisy pack of cubs (of the marauding boy scout variety) out hiking to an unknown (to me) campsite. Much to my relief they continued on after noticing the bike & strange man sleeping in the shelter – they were rather noisy.
An even more stunning day dawned Sunday – I was fed, packed up & riding by quarter past seven. I was right – it didn't even take me two hours to get back to the car, although I opted out of trying to get the ferry as I couldn't be sure I'd make it in time & then not have to wait an hour for the next one. I'm glad I wasn't out long as I was much-overdressed for the sun & heat. Even so, I dumped my heavy load of camping equipment in the car & enjoyed a pleasant ride along the waterfront to the end of the route in Portsmouth at the Historic Dockyard. I always like the naval history in Portsmouth & I saw some different things compared to my previous visits.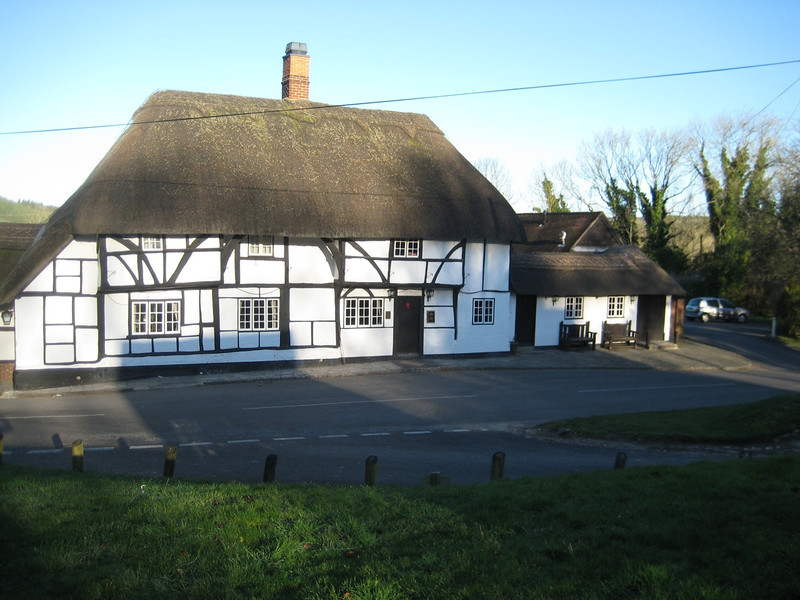 A little off the route at Chalton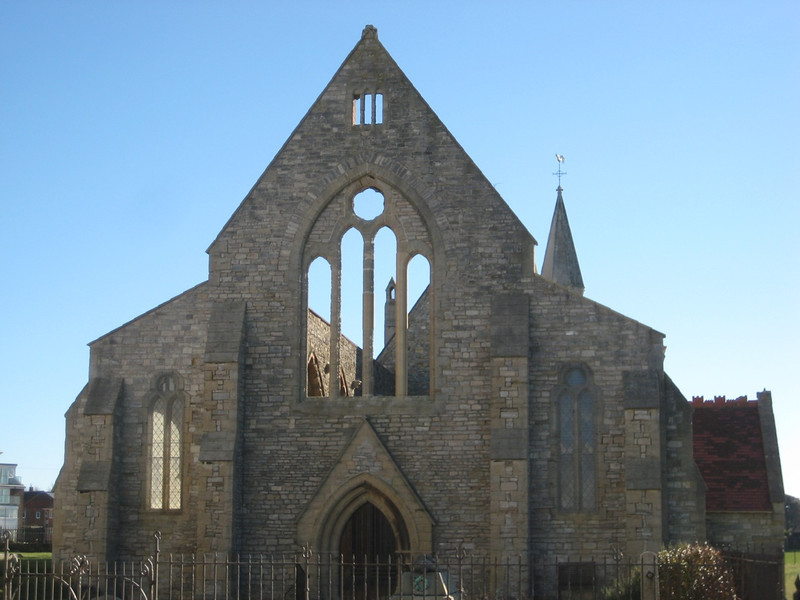 Royal Garrison Church, Portsmouth – fire-bombed in WWII, part of it is still roofed
So a great ride all-up, although I wouldn't recommend it for the mountain-bike trails – I would recommend it for a mostly easy ride to link together a lot of interesting history, nice villages & scenic countryside. There's so much I missed by not stopping more, I think it would be quite a pleasant walk if one was so inclined. Now to find the next overnight trip around Hampshire/Wiltshire/Dorset or somewhere suitably close by.