A few weeks ago at work an opportunity to compete (I use that term loosely now) in the Canmore Winter Meltdown Triathlon at the Nordic Center with a couple of workmates.  As Lafarge was one of the main sponsors, we were to get a complimentary entry ("it was for free"); my teammates pulled out a couple of weeks after that so I organised Megan to do the 10 km (skate) ski & talked Anya into running 5 km – I was to ride 10 km on the snow.  With the spring melt progressing quite well over the last couple of weeks I was worried that the course might be very slushy (judging by last year's photos there wasn't much snow off trail).  How wrong we were, a big storm blew in Friday night & when we got up on Saturday morning there was a good 15-20 cm of snow everywhere.  At least it was around 0ºC.  Here's a quick outline of our day – we didn't come close to challenging the leaderboard, as this event is a fundraiser for athletes there were many tip-top athletes in the field (i.e. most of the entrants).  Oh, & while we were doing the triathlon as a team Alex somewhat crazily/gamely took on the event by himself.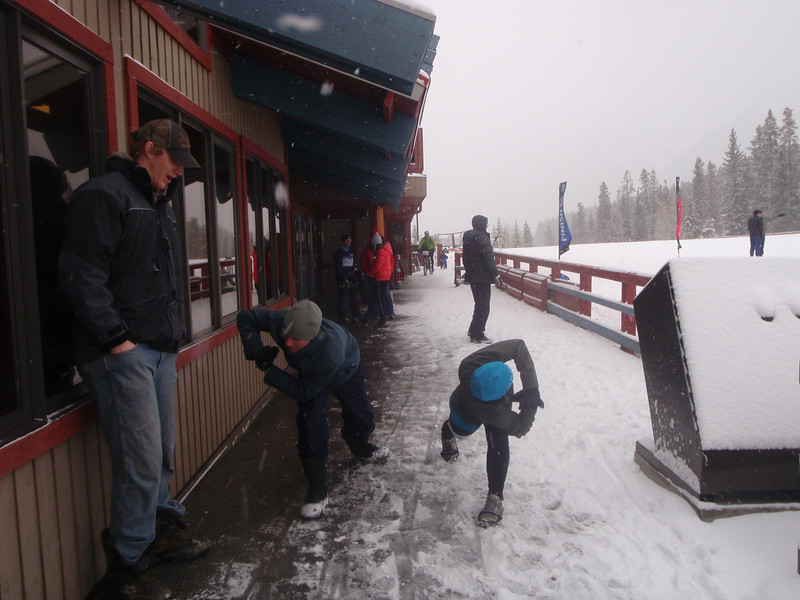 Me & Anya doing some good Lafarge stretches – Greg standing by bemused.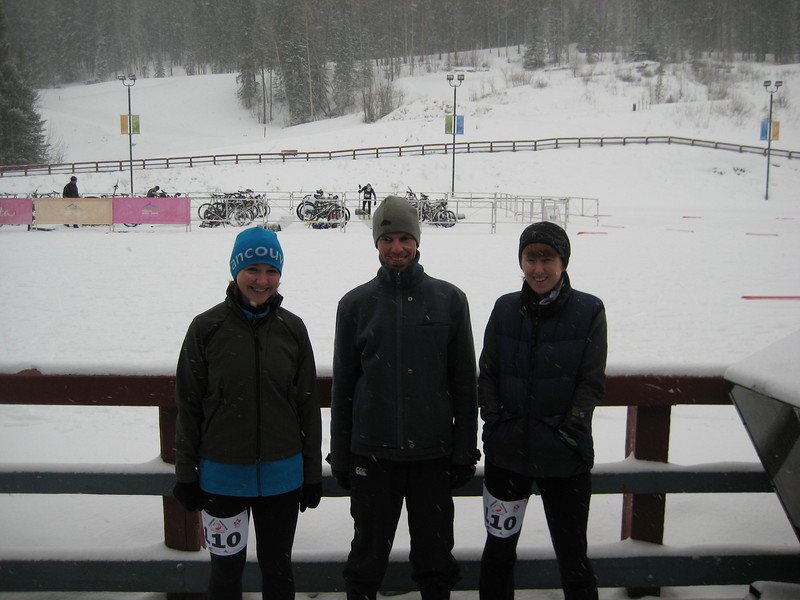 Finn's Minions trying to look worried by all the snow.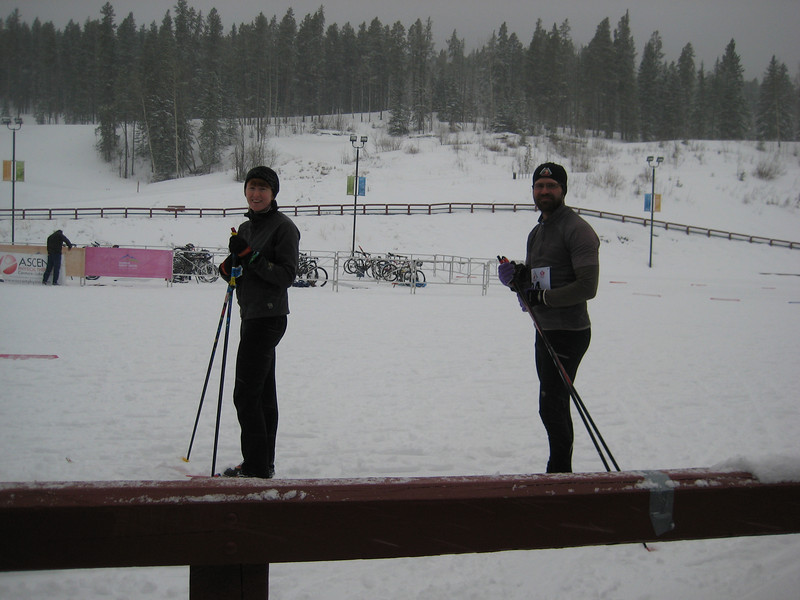 Megan & Alex before the start – which was delayed (very casual event), I assume for the snow.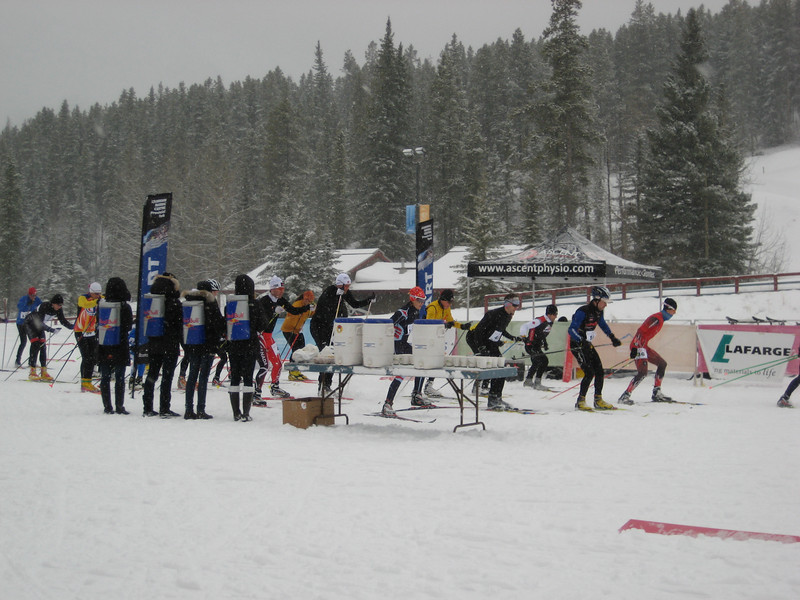 Most of the field setting off.
Kristy did a great job of looking after our evil overlord/mascot, Finn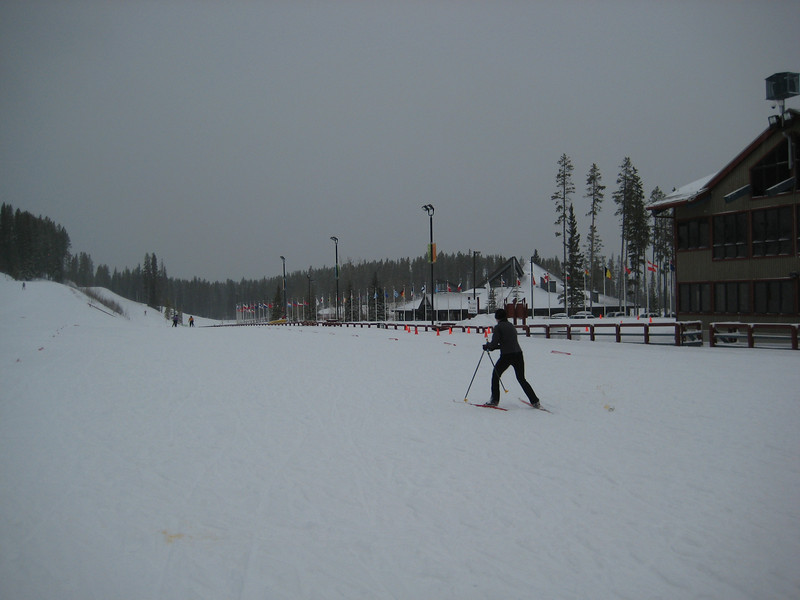 Megan heading out for her second lap – skiing was OK apparently (at least it wasn't concrete-ice), apart from trying to pass when one had to go wide into the deep snow.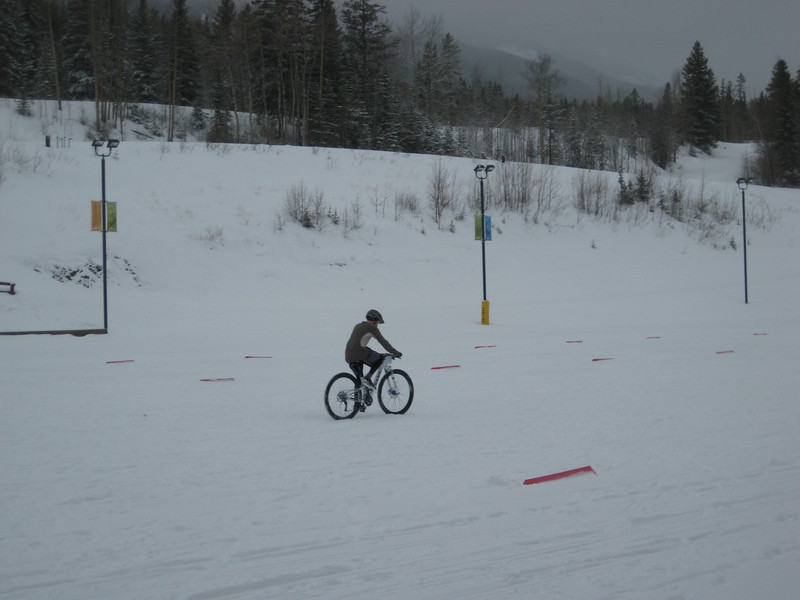 That's me heading out on the bike – the first lap was the hardest five kilometres I've done in a long time (not helped by it being only 5 km I've done in anger for over four months).  The snow was deep & rutted out – which meant that any time you hit a strange line you were suddenly going a different direction.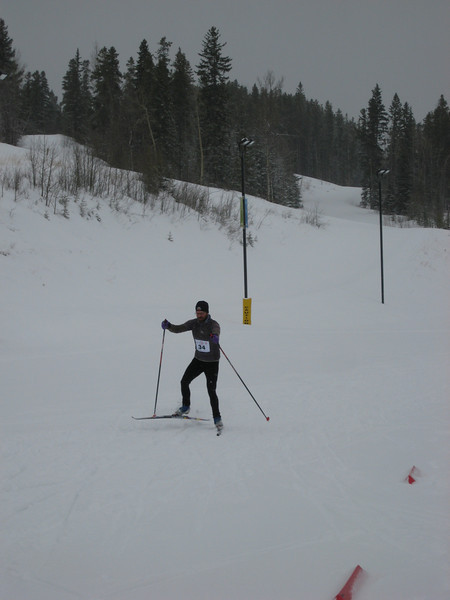 Alex finishing his ski leg before heading out on the bike.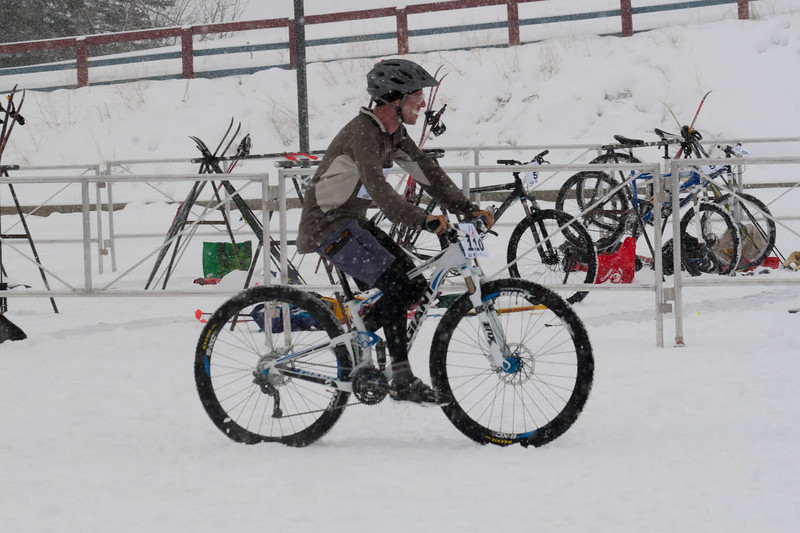 Heading out on my second lap – yes, I look like a midget.  Megan lent me her new 29er & I had the seat low as I knew I would be dabbing (putting my foot down) a lot.  The wheels were great, the Crossmarks (tyres) not excellent for drive.  The second lap was easier as a racing line had developed in some places & in others I'd learnt that the 29er was great for hitting the side of the trail & the fresh snow.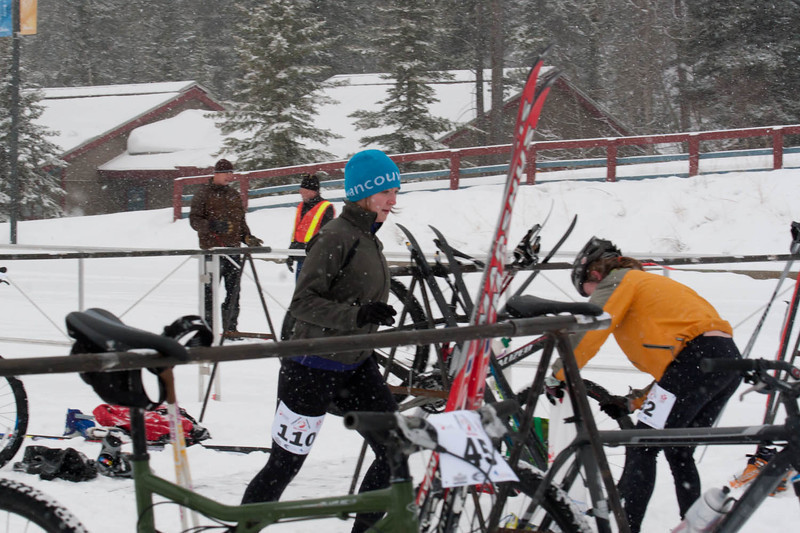 Anya heading out on the run.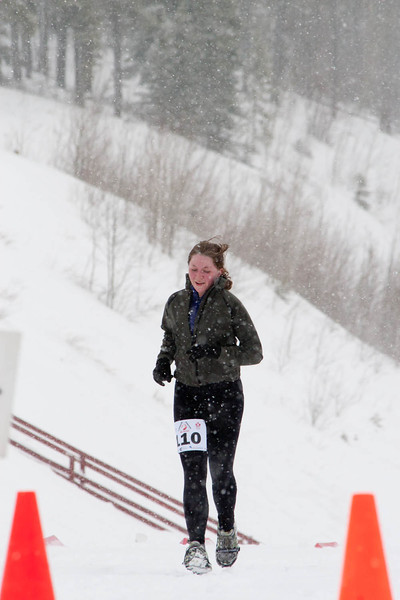 Anya heading for the finish line – while the snow continues to fall, it must be warm as she's ditched the hat.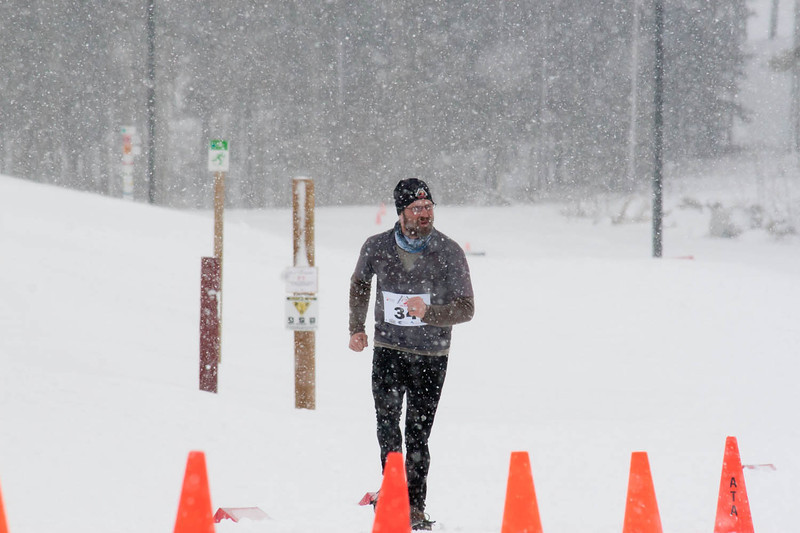 Alex heading for the finish.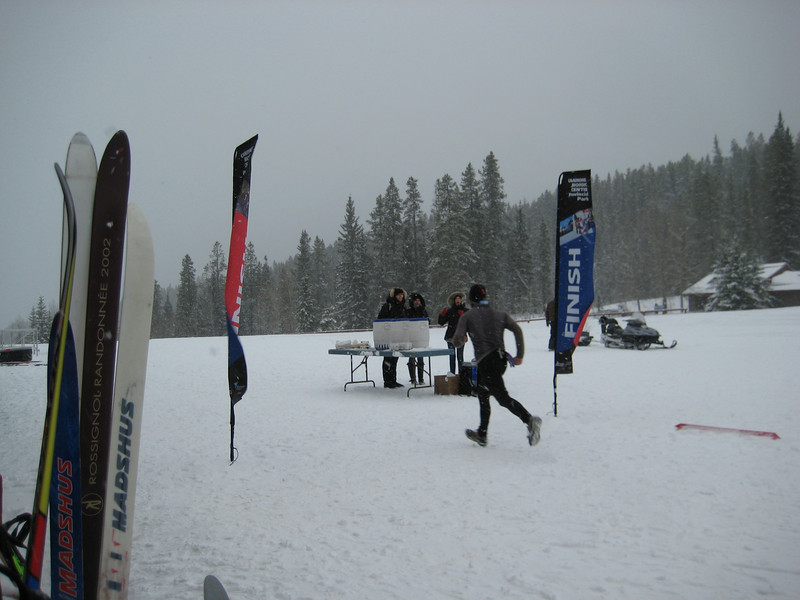 And across the line (said in a good Clarkson voice).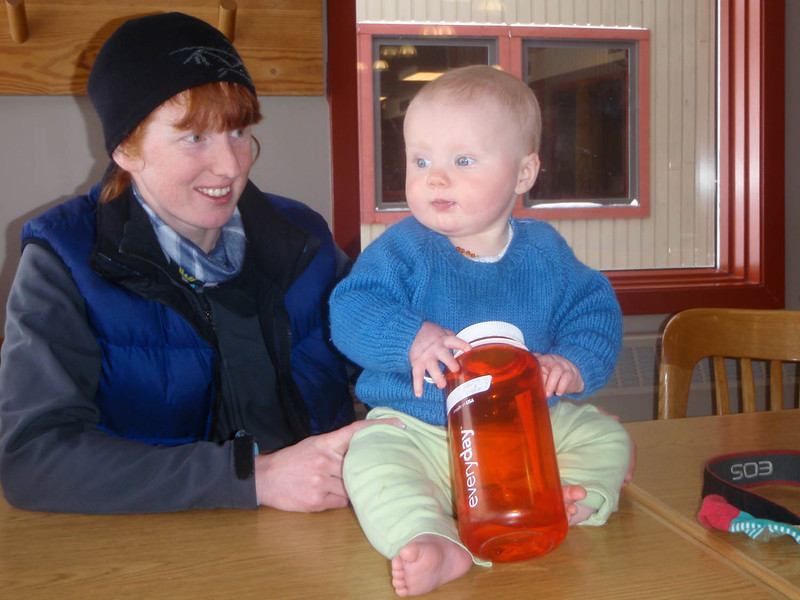 Our star skier receiving the post-race debrief from our coach/mascot/overlord.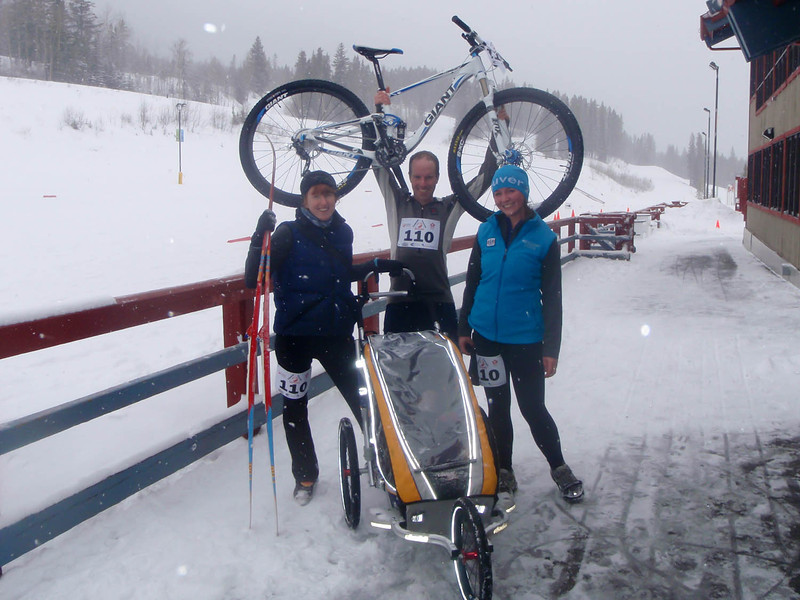 I think we are celebrating the fact that we survived the snow.  Worth celebrating too, a fun morning & we scored some Icebreaker spot prizes.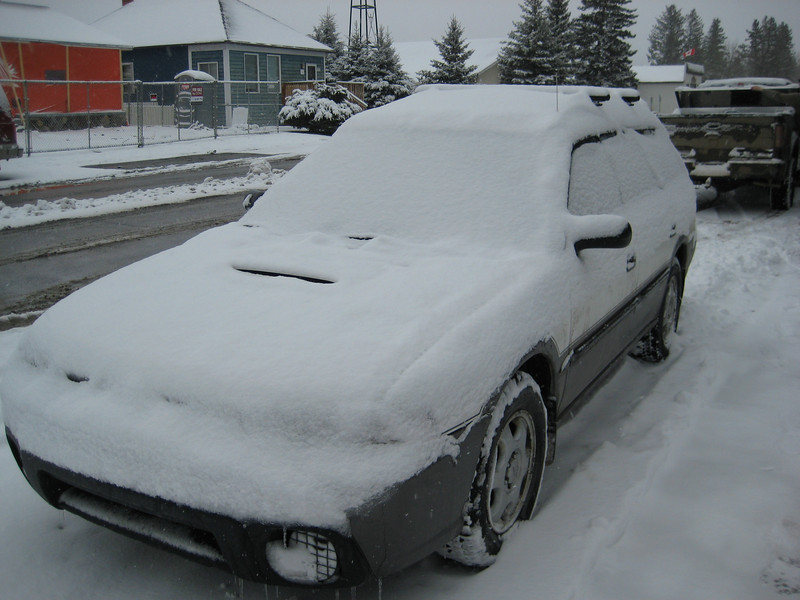 An indication of just how much snow there was to compete with – my car was cleared before the race & this was about four hours later.
The rest of the afternoon was pretty relaxing with a late lunch, a trip to the Hot Springs in Banff to soak & a great big Irish stew that Megan cooked up accompanied by wine, lemon meringue pie & games. (Thanks to Megan & Kristy for some of the photos.)